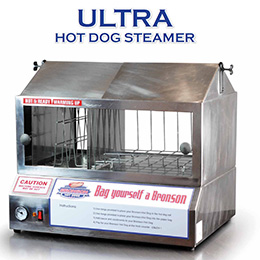 Free on loan to retail outlets
who sell Bronson Hot Dogs
Bronson Hot Dogs is proud to offer the most reliable and innovative hot dog machines on the market. Our steamers are suited to a range of different snack food retail environments. Our Ultra model steamers are perfectly suited to shops and take-aways where customer self-serve is the preferred sale method. Our heated spike units are great in a take-away where you would like to offer more options in hot dogs which will be prepared by your staff.
Our steamers are provided to you at no charge for as long as you continue to sell Bronson Hot Dogs.
And it doesn't stop there. Bronson Hot dogs offers a great range of hot dogs. From Premium skin on hot dogs to our value range of skin on or skinless, we even offer a pork-free option.
Meet on-site

 

We deliver the machine

 

We do it all

 

Happy snackers

To determine which Bronson Hot Dog Steamer is right for your site.
 
We also train your staff in using and maintaining the steamer. Your Initial Stock of hot dogs will be delivered within 24 hours
 
We'll call you each week to check your stock and replenish when required.